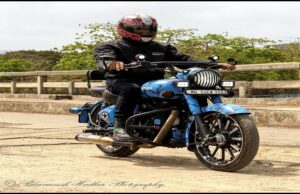 How to do a good break-in on your dirt bike?
Upon receipt of your Pit Bike, the engine is new, its gears are also new, its gearbox pinions, clutch, pistons and other parts must break in (get used to) because they rub against each other.
A break-in is therefore essential to oil and perfect the surface condition of all its engine parts.
To start a good break-in, we recommend that you change the engine oil from the first 20 minutes of starting, this eliminates excess micro-filings, Lubrication of the chain.
Once these 3 fill-ups are finished, drain your engine again, and your break-in is over, the engine is ready, you can let go!
Use Unleaded 95 or 98
The octane rating (95 or 98); the higher it is, the oilier the essence! The 95 therefore burns a little more easily than the 98 but it greases a little less! So prefer the 95 (note the new 95 E10 are richer in octane, in this case the 98 is recommended).
Which oil to use on your dirt bike/pit bike:
 10W40 100% Synthesis preferably, but 1/2 synthesis Also suitable. Check the oil level regularly, we remind you that a lack of engine oil causes the engine to dry out and can damage it.
What technical checks to perform?
It is advisable for you first of all to check if the gasoline goes down well to the carburettor, that you do not have a hose of pinser. That the hose clamps are properly installed and that your hoses are fully engaged.
To start your motorcycle, you must create compression, to do this slowly lower your kickstarter ten times, then kicker at the compression point.
If you don't have a lot of compression, check your valve adjustment, 0.05 intake, 0.07 exhaust.
During your break-in, a carburettor adjustment may be necessary depending on your riding.
– 1: Adjust your wealth screw. To do this, tighten your screw fully and loosen it by 2 turns or 2.5 turns max.
– 2: Play with the notches of your needle in your bushel. Depending on your needs and your piloting, lower or raise the needle a notch. If going up or down the behavior of the motorcycle is more in line with your needs, then you are on the right track.
A check of your distribution timing will be necessary. To do this, make sure that your timing crown is at the mark (9 o'clock), and that your T mark on ignition is at 12 o'clock.
Dirt bike/pit bike chain tension
It is essential to check your chain tension on your Pit Bike/Dirt Bike after or before each session. Always tighten it so as to have a good finger distance between the swinging arm pad and the latter When a person is seated on the mini.
If your chain stretches too often, opt for DID Pit Bike chains
Use a suitable greasing product after each wash, we recommend Valvoline maintenance products. Every 4 outings, disassemble the chain and soak it overnight in petrol, then clean it with a brush, blow, wipe and lubricate it again.
Crown tightening:
The crown is fixed with four bolts, these undergo significant efforts, check their tightness regularly and preventively fix them with thread lock.
Ray control:
After each session, systematically check the tension of your spokes, indeed slack spokes can cause the breakage of a Hub!
Take the pipette as a reference and screw the even spokes 2 by 2 Without forcing too much, do the same for the odd spokes. Avoid over-tightening.
Tire pressure :
The pressure of cross tires in Dirt Bike / Pit Bike should not be below 1 bar, in fact low pressure increases the risk of puncturing your inner tube.
The pressure of a front or rear Dirt Bike tire (10/12/14/17) is recommended between 1.3 bar and 1.9 bar depending on your use. For mixed/amateur use you can put 1.6 bar front/rear.
Wheel bearings:
A loose wheel bearing can weaken a wheel axle or hub. To control them, just take the wheel (fixed on the mini) with two hands and exert an effort so as to try to feel some play. If there is any, even minimal, do not hesitate to change. The reference of your bearings is written on the bearing (6202z standard
Brake kit, braking dirt bike, pit bike:
Brake pads are a regular wear part, check your braking for your safety regularly and change them when the pad is worn to 3mm of material in  order to avoid premature wear of your brake discs.
After each outing, clean the pads well (mud is an important wear factor). For better braking, clean your discs regularly to remove greasy matter.
Wheel alignment of your dirt bike/pit bike:
the alignment of your rear wheel is very important. In fact, poor alignment causes friction between the pads and the disc, which causes the caliper and the brake fluid to heat up.
Maintaining your dirt bike/pit bike air filter:
It is the lung of your engine, it is advisable to clean it after each session. There is a specific product for this maintenance to be used in several stages which consist of degreasing, cleaning the filter and then impregnating with a "dust trap" liquid. The ideal being to have an air filter of Reserve.
Greasing dirt bike/pit bike throttle and clutch cables:
A rusty cable is a weakened cable, grease your cables regularly with gas as well as the clutch to ensure that your gas handle and clutch lever work properly. Proper maintenance guarantees proper operation and prolongs their lifespan.
You will notice that the motor is held by only two long axles which are called the engine support axles. They are therefore very important and must be tightened after each session. A loose or over-tightened axle can cause damage and cracks to the motor housings. Be careful not to overtighten.
Cleaning the fork of your pit bike/dirt bike:
The dried mud damages the oil seals which causes the fork to ooze.
Clean your fork tubes after each wash and spray with cleaner to lubricate the tubes and spy. Occasionally lift the wiper seals, spray with lubricant and replace them.
DRAINING THE DIRT BIKE/PIT BIKE 4-STROKE ENGINE:
Valid for all 4-stroke engines of any displacement combined (Lifan, YX, Loncin, Ducar, Zongshen, Daytona, Takegawa, Goniuy, Bull…)
As previously indicated, during the break-in, be sure to drain your engine after the first 20 minutes of use. Then a second oil change at the end of the break-in.
Thereafter, perform an oil change every 20 hours of use (Between six and ten sessions maximum). As there is no oil filter except on the latest 149cc YX and 150cc YX, the filings wander around and can do damage. There are two screws to undo under the engine, the larger one is the one from which the oil will drain abundantly and the small one where there is the strainer And which also serves as a pusher for the timing chain tensioner . Remove the strainer and clean, screw the assembly back on and fill with a 100% synthetic quality oil for four-stroke engines.
Cockpit check (handlebar, lever, grip, pull):
For your safety, check the tightness of the handlebar clamps as well as the fork triple clamps, check the tightness of the lever hoods which must remain "free", therefore do not overtighten, so that the assembly can pivot in the event of a fall.
Checking the tightness of the dirt bike/pit bike exhaust:
The exhaust is one of the parts that feels the most vibration, these screws and other rivets can loosen, so it is important to check that your exhaust is properly fixed.