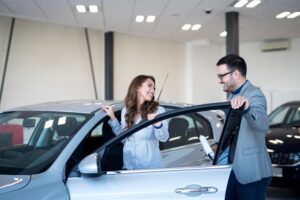 5 criteria to consider when buying your first car
When you are young, buying a car becomes obvious. This is not always easy, given the lack of technical knowledge that we often have when we start driving: for a first car, should you buy new or used?How to recognize a car in good condition? What are the different criteria to take into account in order not to be mistaken? Here are 5 that might just help you sort through what vehicle is right for you individually.
1- The size of the vehicle
For a first car, we generally recommend the small format. In town, for example, it is better to opt for a city car, small and versatile, easy to park, threading and easy to drive. In addition, their impact on the environment is reduced. In the countryside, the car is generally essential in the face of an underdeveloped transport network. Country roads, sometimes strewn with potholes, are uneven. So you need a medium-sized vehicle, strong enough. For large families, we of course recommend the station wagon or minivan which offer comfort and space.
2- The budget to be defined
Buying a car depends on everyone's budget: a student will rather turn to a second-hand car whose prices range from €1,400 to €5,000 as found on this site , while an active worker will rather turn to new at its dealership. Of course, we recommend not to put too much budget in a car, especially when you are a young driver, because the driving habit is less and the small collisions more frequent. The used car is ideal in this specific case. Plan a budget large enough to avoid surprises.
3- Security
Especially when buying a second-hand vehicle, it is a good idea to test drive the vehicle first so as not to end up with a wreck after three hours of driving. Check its mileage and maintenance book, observe the scratches and its general condition. To verify that a vehicle meets certain strict safety standards, it is obliged to go through the technical control during the 6 months preceding its sale. The age of the car must also be indicated in black and white along with its mileage and previous repairs. A more in-depth technical review from you will be a plus. In addition to the elements that we have already mentioned in this article to drive safely, you will need to check:
4- The intended use
Of course, you choose the model of the vehicle according to the use you are going to make of it and your own convictions and requirements. Large families will prefer a station wagon and people who want to turn to more ecological concepts will choose a hybrid or an all-electric, while enthusiasts will opt for a collection or a sports car. For purely professional use, you can turn to the utilities side. It all depends on personal taste and how you will use it.
5- Comfort options
Finally, this last criterion includes the functions integrated into the car that you would like to have in order to improve your comfort: integrated tablets for children? An integrated GPS? Heated seats? Or even high-tech applications? Increasingly, the automotive industry is creating cars equipped with smart features that are supposed to improve the driving comfort of the driver as well as that of the passengers. As announced in this article from Le Nouvel Obs ', the connected car has a bright future ahead of it.